interns.design
Designer & Developer / Winter 2019 to Present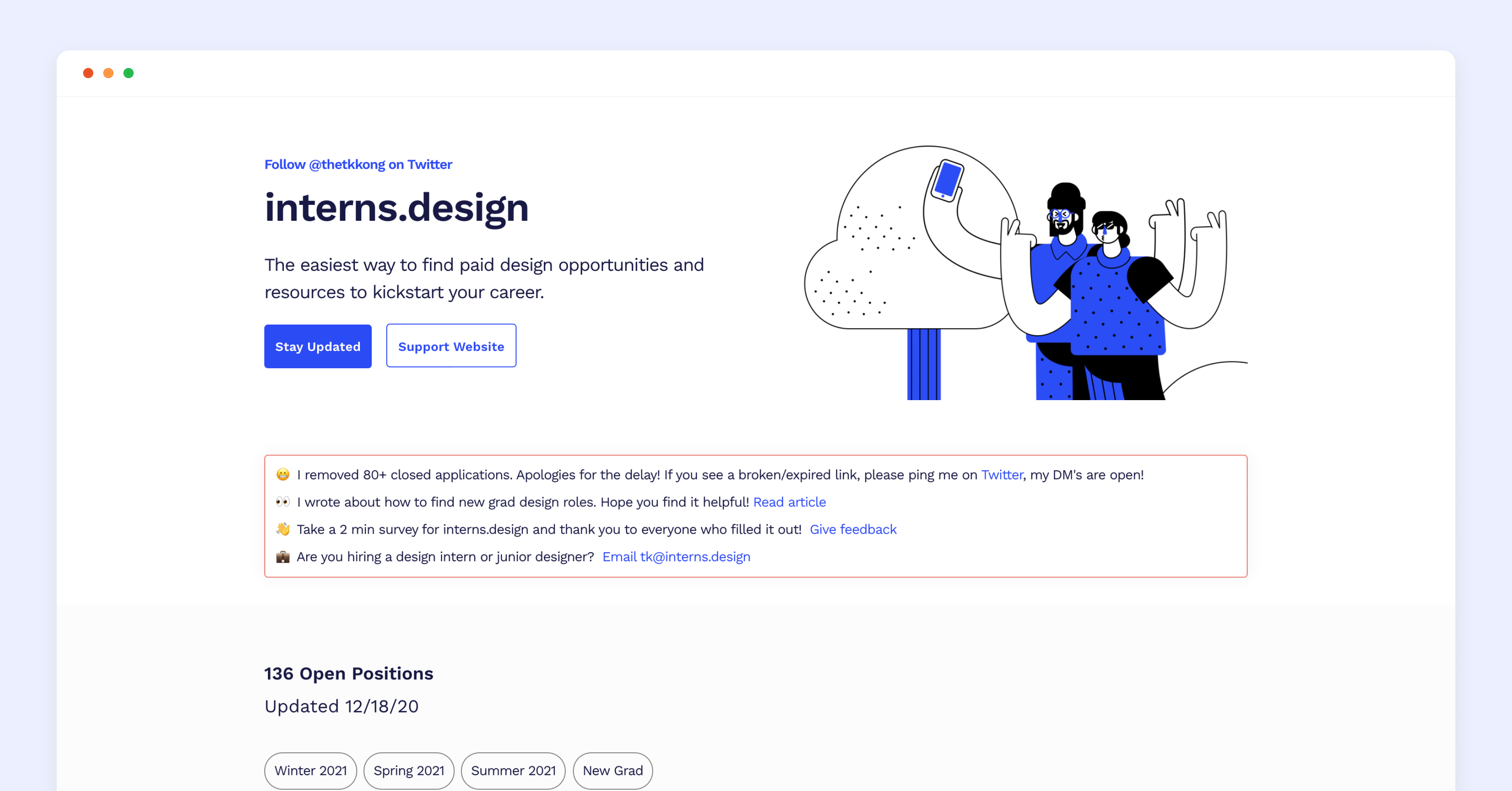 The first version of interns.design was a Dropbox Paper that I put together for the Cornell design community. After seeing it get shared to other design schools and wanting to learn React, I decided to put together an official site!
Since the launch in Dec 2018 → Dec 2020, I've had over 34.2K unique visitors, 115K sessions, and 130K clicks on job listings. Currently, 5,400 design students visit the site monthly and 2,600 are signed up on the mailing list!
My goal for interns.design: The go-to site for all aspiring designers globally. Build the easiest way to find resources to learn how to build portfolios, write case studies, practice interviews, and find job opportunities. Plus, find tips on how to negotiate offers and how to be successful in your role. Essentially become a fullstack service for designers.
---
Love from students
"Hi TK, I just wanted to say thanks for making the interns.design website. I check the website religiously everyday and gotten offers from my dream companies. The companies also mentioned that I was their first applicant they interviewed." - Adam, Incoming Product Design Intern @ FB, Tesla
"Hey! Just wanna thank you for building interns.design, the website took a LOT of the stress away from finding internships and helped me find my current one @withprimer :)" - Jess, Design Intern @ Primer, Incoming @ Raya, Lyft
"I've been using this website for about a year now, and I can say that it reduced a lot of stress in looking for jobs in design since they're hard to find. I check this website almost everyday and have applied to many internships (and got interviews) so far!" - Anonymous via Feedback Form
Love from founders
"interns.design is fantastic - I found that I could connect with some of the best emerging design talent there." - Sara, Co-founder @ Alloy Automation (YC W20)
"You've built something quite powerful. I've received over 100 applications in less than a week." - Kahlil, Co-founder @ Ivella